Get your FREE copy of A Drink with Death
Extorting a township is thirsty work when things go sideways.
When mercenaries Keane and Sarah wander off the job and into an abandoned bar, the setting was perfect for a night of free drinks. But the thing that emptied the bar still sat in the corner, and it was not friendly.
Sign up for the Orven Newsletter
Get your monthly dose of humor and book updates in your inbox.
Unsubscribe any time. We will never share or sell your email. Because, that's just rude.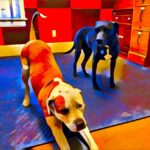 Lena and I headed out of the house for our morning walk, as we often do. It was a beautiful morning for a stroll along the river, with bright sun…
Keep reading...